Kwaebibirem Rural Bank donates towards Covid-19 fight
News & Reports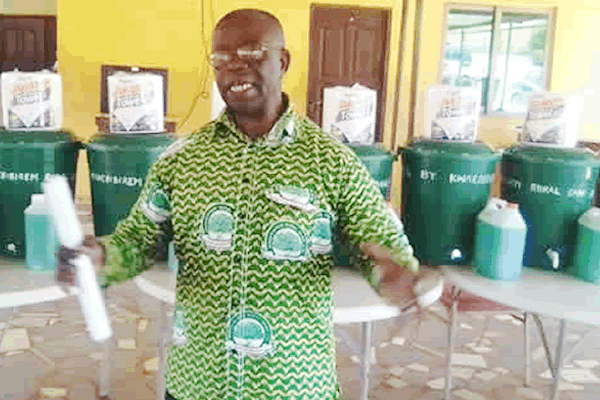 The Board of Directors of Kwaebibirem Rural Bank, led by its Chairman Carlos Kingsley Ahenkorah, has donated items to the communities in which the bank operates to help fight Covid-19.
The items include 20 Veronica buckets, bundles of Tissue paper, 20 gallons of Liquid soap and quantities of Hand Sanitizers.

Speaking to the media from his Team-based residence, the Tema West Member of Parliament, Ahenkorah said Kwaebibirem Rural Bank, with its head office in Asuom, has seven agencies in Kade-Kwaebibirem Municipality, Boadua-Denkyembour District, Oda-Birim Central, Asamankese-West Akyem, Kwae-Kwaebibirem and Pramkese, also in the Kwaebibirem Municipality.

He said the Bank, in the past years, has supported these communities in which it operates through its Corporate Social Responsibility initiatives.

"What we just presented to these institutions in our catchment area is the Bank's response to the novel Covid-19 epidemic that has taken the whole world by storm and killing thousands of people across the length and breath of the world," Mr Ahenkorah explained.

Presenting the items on behalf of the Board, Management and Staff of the bank, the General Manager of Kwaebibirem Rural Bank, Mr Michael Agyeibi Agyekum, said discipline must be key if the fight against the Covid-19 pandemic will be won.

He admonished that even though the donation to the beneficiary institutions would go a long way to reduce the infections, the enforcement of the President's directives of handwashing, sanitizing the hands and social distancing should be strictly adhered to by all if we are to combat the spread of Covid-19.

The institutions that benefitted from the donation at Asuom included Asuom Palace, Asuom main market, the Asesewa market, Lorry Station (GPRTU), Asuom health centre, Asuom Police District Command and charge office.

At Kade, the beneficiaries were Kade GPRTU, Market centre, Zongo Community, Subi CHPS Compound, Kade Police station and Municipal charge office.

At Boadua/Akwatia, the items were given to Ghana Consolidated Diamond (GCD) Hospital, Akwatia Police station, Boadua GPRTU, Boadua market and Boadua Environmental Unit.

The Chief of Asuom, Osabarima Ofosuhene Apenteng II, on behalf of the Traditional Authorities and the people of Asuom and its environs, thanked the bank for supplying the items at the right time to help fight the deadly Covid-19.

The Chairman of Asuom GPRTU, Mr. Appiah Kubi, on behalf of all the beneficiaries expressed appreciation to the bank for the donation and assure them that the items would be put to good use to help fight the epidemic.

The presentation ceremony, which was done with less than 20 people in accordance with the President's directives of social gathering, was held at Kingsley hotel in Asuom on Friday, 3rd April, 2020.